There's no place else quite like Andros, the largest of the Bahamian Islands. Tucked away on the eastern shore of Andros in Blanket Sound sits Forfar Field Station, International Field Studies' (IFS) most popular field study program. With our rustic set of cabins mere feet from the ocean, IFS runs educational programs for school groups ranging from middle school up to college to explore a range of topics including marine biology, island ecology, geology, botany, and Bahamian culture. Researchers can stay at Forfar to conduct research either water or land based in nature. We have educational staff who live on the island year-round facilitating guided field excursions, present lectures, and general assistance for your trip needs.
Our boat days are spent on the ocean snorkeling or scuba diving the third largest fringing barrier coral reef in the world, the Tongue of the Ocean, and oceanic blue holes. Land days explore the unique landscape filled with seven distinct plant communities, the endemic birds and reptiles, the largest concentration of fresh water blue holes in the world, and the local artisans and community members of Andros. While on the station, you can enjoy home cooked meals from our local staff, a leisurely game of beach volleyball, basketball, or ping pong, swimming on the beach just feet from your cabin, and a time to unplug and take a break from the constant buzz of our digital world. Forfar Field Station is well-equipped to provide you with an unforgettable educational experience!
Individual students not affiliated with a group can participate in our 6-week Forfar Gap Year Program.
Educational Programming
The classroom at Forfar sits just along the shore where students put their knowledge to the test with experiential learning. Most groups plan evening educational presentations in our classroom. Some group leaders choose to lead their own presentations, some combine with what the Forfar staff offers, and others rely on the Forfar staff exclusively. Our diverse staff offers several lectures, activities, and labs. All lectures and excursions can be found in our Sites and Sights Guide.
Scuba Diving at Forfar
Scuba diving is available to enhance your learning experience while at Forfar. We operate a PADI certified dive shop and offer dive trips in addition to our existing programming. Check out our Diving Guide for more details about SCUBA at Forfar. Looking to earn you PADI Open Water and Advanced Open Water SCUBA certifications? Enroll in our Forfar Marine Science Program!
Forfar Field Station is named after its founder and builder, Archie Forfar. Since its debut, Forfar has served as an educational and field studies resource to thousands of students that range from middle and high school level to graduate students and researchers. Check out our Welcome to Forfar guide to learn more about Forfar Field Station!
Forfar provides rustic cabin-style lodging along the beach. The field station is perfect for hosting student, family, or research groups with its 56 bed capacity divided among 8 cabins. Each cabin has 3-4 sets of bunk beds, electricity, fans, mosquito bug nets, and a private bathroom with shower. The Forfar Lodge houses our Dining Hall, Classroom, Research Lab, and open living area. The Dining Hall is where most meals take place at Forfar. Forfar Field Station also houses an on-site dive shop that provides a full range of diving equipment and an air compressor for refilling tanks.
When groups aren't out exploring, they can relax with an enjoyable game of beach volleyball, or they can lounge by the beach and watch the waves roll in. The relaxing ocean sounds pair nicely with the field station's design to make a peaceful learning environment for students.
2019-2020 Season Pricing
Pricing may vary with each group's trip goals and needs. Be sure to contact the office for an official trip quote and invoice. Trip dates fill up fast so if you have specific dates in mind make sure you contact us promptly to reserve a spot for you and/or your students! Please note, trips typically run from Saturday to Saturday, but we may have flexibility during certain dates. Trip reservations are $200 deposits which will be put towards your total trip cost.
Participant
Cost
What's Included
Student
$1300
7 night stay at Forfar Field Station. Flights from Nassau to Andros and Andros to Nassau. All meals (except Thursday's Dinner Out - typically $15 to $20 per student), transportation, lodging, lectures, and lecture-themed excursions listed in our Sites and Sights Guide are included in this price.
Chaperone
$1050
Free Chaperone
1 per every 10 students for free
Children Ages 12 and under
Contact the office for more information
Researcher
Visit our research page for more information
Our Popular North Boat Day Trip:
Rat Cay Blue Hole
Subjects: Fish, Blue Hole's, and Coral
This is our favorite oceanic blue hole with really incredible fish and corals. The hole is surrounded by finger coral that grow up to the low tide line providing shelter for invertebrates like lettuce leaf nudibranchs and lobster.

This site requires a bit of snorkeling skill to keep from damaging the site.
Saddleback Cay
Subjects: Invertebrates, Geology
Saddleback has several different ecosystems including grass beds, mangroves, sand flats, and rocky intertidal areas.

This is a great site to visit during low tide and students will usually go for an invertebrate walk on the west side and snorkeling on the east.

A typical lunch stop for north boat days, but an entire afternoon could be spent here too.
One of many North Island Trip Excursions from Forfar Field Station:
Morgan's Bluff and Cave
Subjects: History and Culture, Geology
This 65ft bluff is the highest point on Andros. A short walk up to the cliff face takes the group to a beautiful view of the ocean and reef.

The legend goes that notorious pirate Captain Henry Morgan buried his treasure in the cave below Morgan's Bluff. Take a half hour to look at stalactites stalagmites, and a group of small bats (seasonal). This cave is easily accessible and fun to walk and crawl through (plenty of space for larger groups).
One of many South Island Trip Excursions from Forfar Field Station:
Captain Bill's Blue Hole
Subjects: Geology, Birds, Botany
The largest blue hole on the island, Captain Bill's is 440 ft across. There is an exhilarating 15 ft jump into the water and a pavilion for relaxing.

As part of Blue Hole National Park, Captain Bill's is well kept by the Bahamas National Trust so there are plenty of nature trails and birding.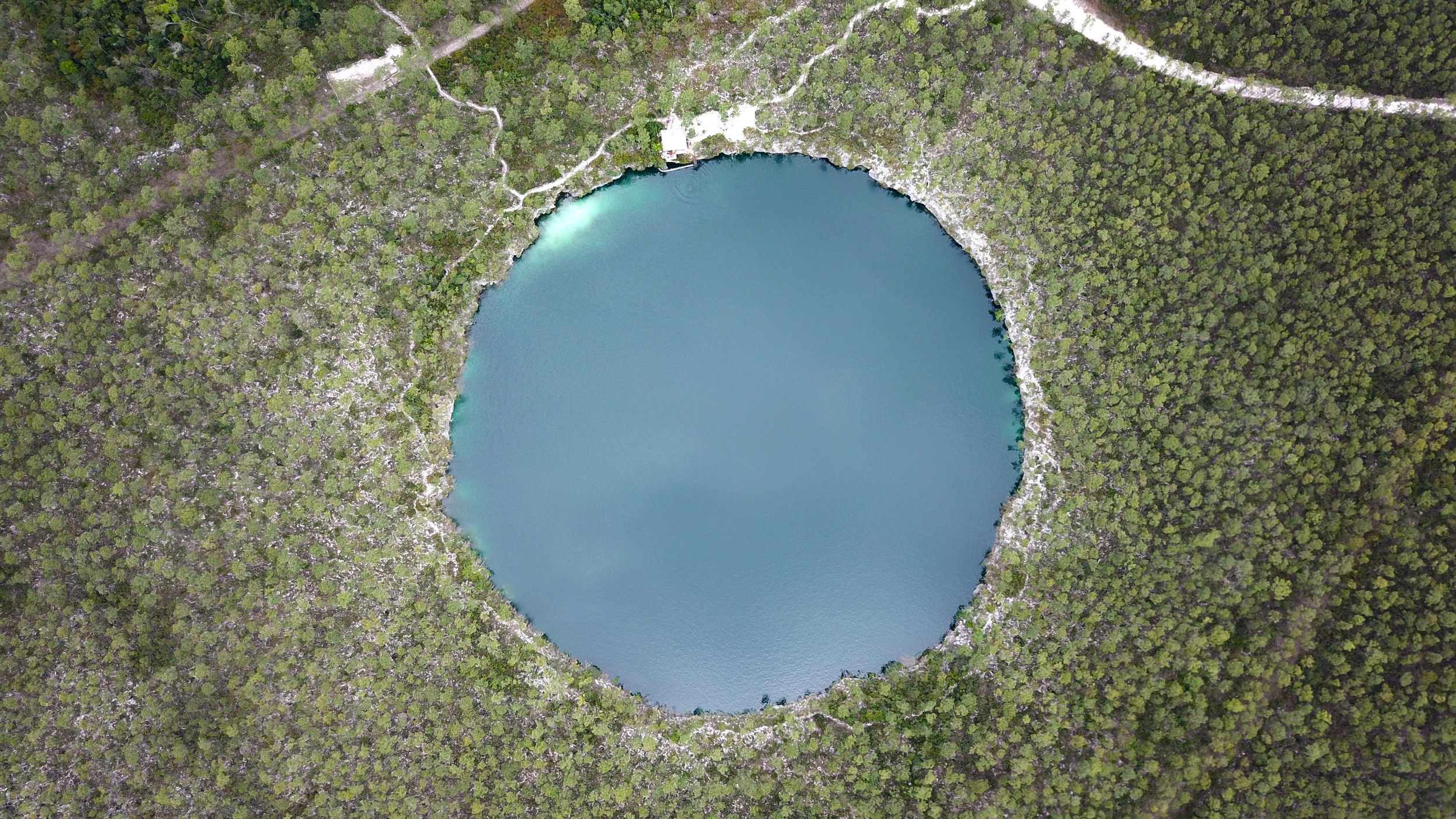 Fill out the form below to message us or receive a Sites and Sights Guide and/or a Welcome to Forfar Guide!